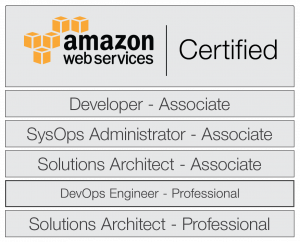 Today I went and sat yet another of the AWS Certifications; I've been doing a bit of a Pokemon approach and collecting them all.
AWS's certifications fall in what are essentially three classes: Associate, Professional, and Speciality (still in beta at this point in time).
Each of the certifications requires sitting a proctored exam at a certified exam venue. Subjects are not permitted any personal equipment, watches, wallets, or anything else that could be used to collude or circumvent the test integrity. The testing is done on a locked-down PC, and are generally multi-choice of:
Choose the best answer (think: radio box)
Choose N answers that apply (think: tick the check boxes)
The Associate certifications are effectively entry-level: the number of questions is around 55, and the permitted time is around an hour and a half.
Meanwhile the Professional and Speciality certifications are around 100+ questions, and three hours assessment time.
The calibre of the questions have made these certifications some of the most valuable, and thus desired certifications in IT. I've been lucky to spend several years working on some large projects to hone these skills, and am pleased to hold all five of the AWS certifications.
Certification Venues in Perth
Over the last few months, two more venues have appeared as options for sitting these certifications, and I have now used all three to compare them. For several years, AICT (next to Myer in the Murray Street Mall) has been the only option, but now Saxons Training Facilities at 140 St Georges Tce, and now ATI-Mirage at the redeveloped Cloisters have become available.
AICT is probably the most dilapidated venue. They have set aside a small room at the very rear of their location just by their lab technicians hub and on-premise data centre, with small screens on the testing PCs, no windows in the room, and at times, a lack of adequate cooling assisted by a pedestal fan. They can test about 5 people at a time here.
Saxons became available in January: their rooms were considerably larger, well lit, and had large windows for daylight. The facilities were much cleaner and newer. A very large break-out kitchen/coffee area was there, but I had no time to use it. The room would have held about 18 people, but I was the only one the morning I sat this certification.
And today, ATI-Mirage – I was their first Kryterion exam to go through since ATI-Mirage started offering them. Their testing facility was reasonably well resourced, no windows but well lit, with enough room for around 12 people or so to sit exams. This is shared with their Pearson-VUE testing, and this morning, was full.
If I had to order the facilities, I'd probably chose Saxons first, followed closely by the very friendly people at ATI-Mirage, and AICT last. But then again, my office in the Perth CBD is opposite Saxons, so its a short walk to hop over the road!